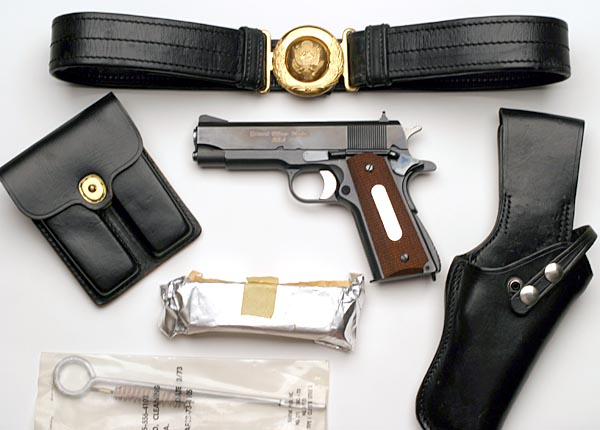 RIA General Officer Model M15 .45 ACP Serial Number GO609 - pictured with original belt, buckle, holster, mag pouch, two spare wrapped magazines (numbered to the gun) and cleaning rod.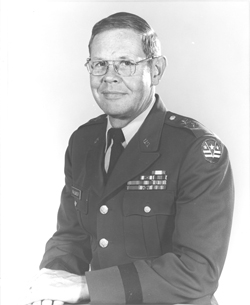 Charles D. Palmer, Major General (AUS RET.)
(January 5th, 1931 - January 7th, 2014)
Wednesday, January 22, 2014 4:10 PM

"I am sure there are those who feel it is presumptuous of me to write my own obituary, but who better to chronicle my triumphs and foibles? I struck my tent, stood my last retreat formation and listened to Taps for the last time a few days ago (Jan. 7th) as a result of natural causes (Jack Daniels, 3-star Asian food, garlic pizza and good cigars). I have included the picture above because I could not get clearance to use the one that did me the most justice (Clint Eastwood at the age of 45).

My earliest triumph was being born to my wonderful parents, Kitty and Vance Palmer, on Jan. 5th 1931 in Sioux City, IA. They had to contend with my foibles for the next 18 years. My next triumph started upon enlisting in the US Navy Reserve on my 17th birthday, and continued through a 43-year career of active and reserve military service, which culminated in my retirement from the US Army Reserve as a Major General in 1991. My greatest triumph was meeting Lyn, the love of my life and best friend, in Boston in 1953 and marrying her in 1955. The 54 years that we had together, like good wine, did get better with age.

The military career was coupled with a 33-year career with the Boeing Company, which included highly gratifying assignments on the Bomarc, Minuteman, Apollo Integration, 747, and Boeing Computer Services programs. In both of these endeavors, I had the good fortune to be associated with many good friends. A number of them have already passed beyond. When Charon has ferried me to the other side of the River Styx, I'm sure they will be waiting on the far shore with a double JD on the rocks.

Well, like all other good things, this too should come to an end. There will be no services but those of you who are still on this shore of the River Styx can gather together for a libation and swap a few remembrances, as those of us on the other shore will be doing. As I read back through this I find that not much time was spent on foibles. Hopefully they were minor and did no great disservice to others."

Chuck is survived by his Son, Steve Palmer; Daughter, Melinda (Gil) Erickson; Grandchildren: Catherine, Michelle & Ruben; Cousin: Connie Post and former Daughter-in-Law: Mona Zuill.
"In closing, I am reminded of a quote from Sir Winston Churchill: I have taken more out of whiskey than whiskey has taken out of me."
- Charles D. Palmer
Major General Charles D. Palmer

Born: 5 January 1931
1948 - 1952
Enlisted in U.S. Navy Reserve 5 January 1948. Called to active duty in 1950. Discharged from USNR in 1952
1954 - 1958
Commissioned 2nd Lieutenant, Corps of Engineers in 1954, Regular Army. Server as Platoon Leader, Company Executive Officer and Company Commander
1958 - 1965
Transferred to US Army Reserve. Served in various command and staff assignments.
1966
Graduated U.S. Command and General Staff College
1967 - 1970
Served as Commander Engineer Combat Battalion (amphibian equipment)
1971

Graduated Army War College
1972 - 1977
Served as Commander Corps Support Group and Commander Infantry Training Brigade
1978 - 1982

Promoted to Brigadier General in January 1978. Assigned Commanding General, 124th Army Reserve Command
1982 - 1984

Assigned Assistant Deputy Chief of Staff Research Development & Acquisition, DA Staff
1984 - 1986

Assigned Commanding General, 104th Training Division
1991

Retired, Major General, 5 January 1991.


Awards
Distinguished Service Medal
Legion of Merit
Meritorious Service Medal w/Oak Leaf Cluster

Died: 7 January 2014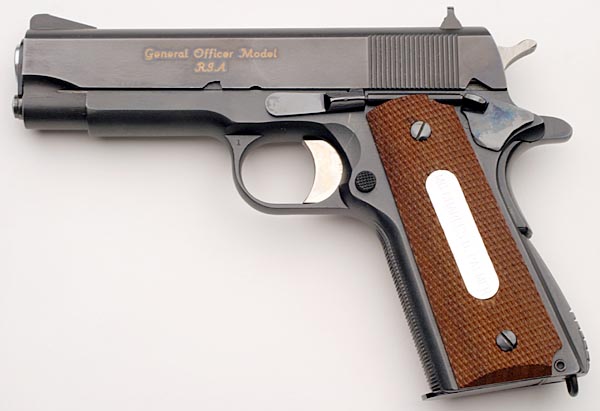 RIA General Officers Model Serial Number GO609 - The M15 was manufactured from 1972 to 1982. The frame and slide selected for the M15 were taken from unreworked arsenal inventory 1911A1 stock. To remove the original 1911A1 markings from the slide and frame, both had to be ground and polished. The thickness of the frame is approx. .016" less than that of the 1911A1. The length is the same. The slide is cut down and modified. The width is .025" less than that of the 1911A1 and .75" shorter in length.
The lock, safety mechanism, hammer, grip safety, mainspring housing and slide lock are made from standard 1911A1 parts.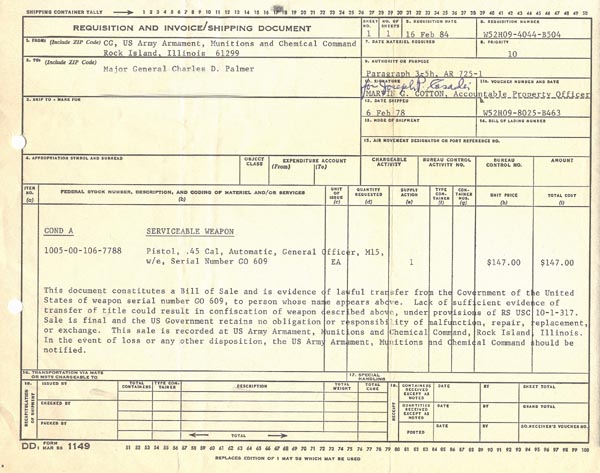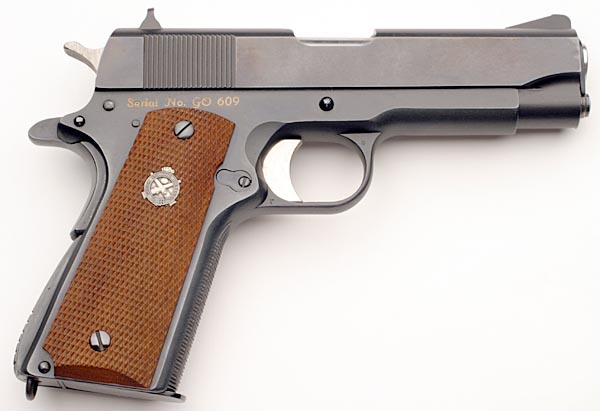 These pistols were finished with a deep blue finish on portions of the slide and frame. The safety, slide lock and grip screws have a polished blue finish. The top of the slide has a matte type finish.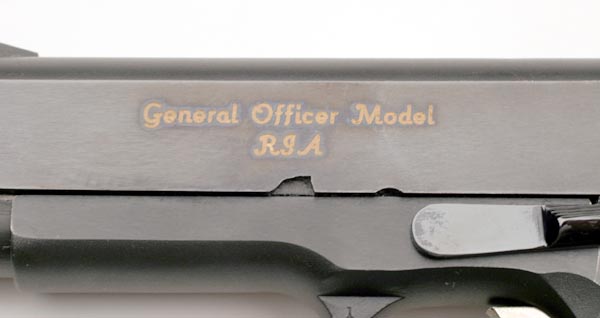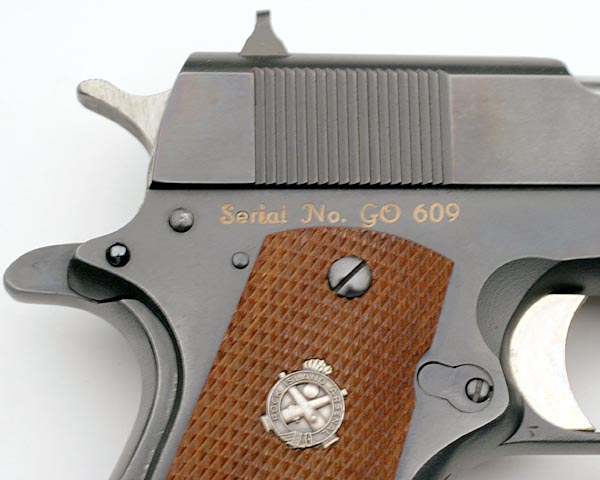 Serial numbers were changed to "Serial No. GO 609" type. The markings started with number G01 and went to number GO1004. The engraving is filled with either a white compound or mixed with a gold color. Most of the earlier guns have white, but it's not known when the transition to gold occurred.
The placement of the serial number created a problem for engineering with the fitting of the Herrett grips. A jig to remove part of the top of the right grips to make the serial number clearly visible. The grips are sharp checkered, oil finished walnut with an Rock Island Arsenal emblem in the right grip.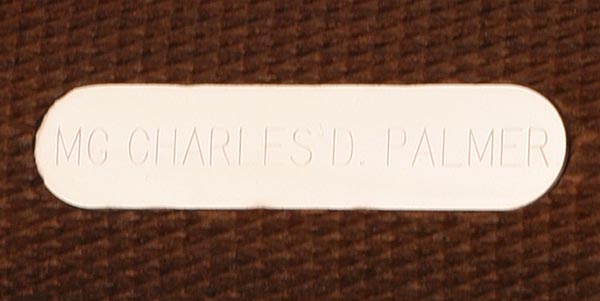 Silver plaque in left grip is inscribed to MG CHARLES D. PALMER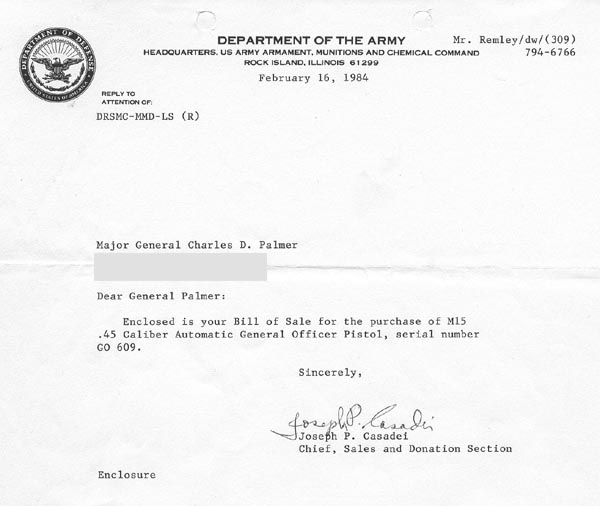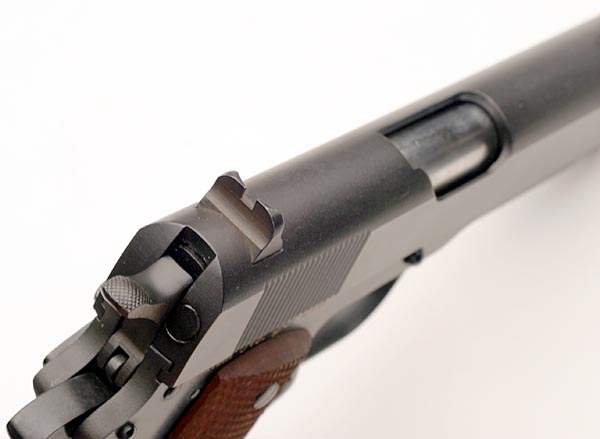 Sights are fixed National Match on the rear for the first 300 pistols, after which the rear sight was cast and purchased from a supplier. The front sight was manufactured at the arsenal.

The front grip strap and arched mainspring housing are grooved vertically and horizontally.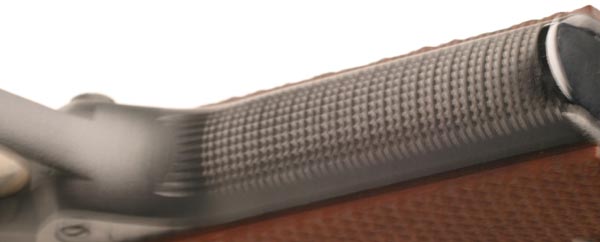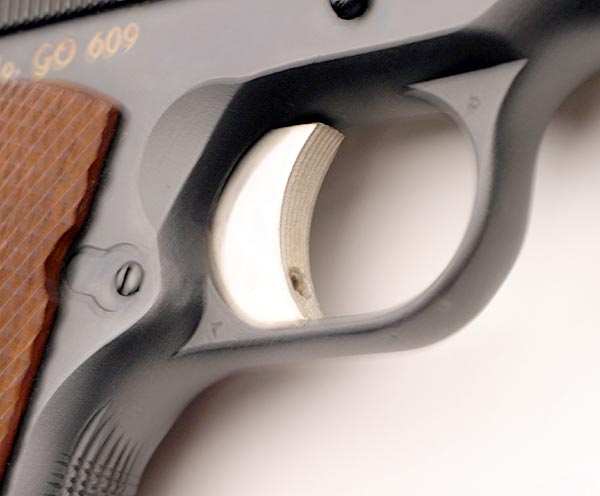 Chrome plated National Match aluminum triggers with front grooves and an adjustment screw are standard.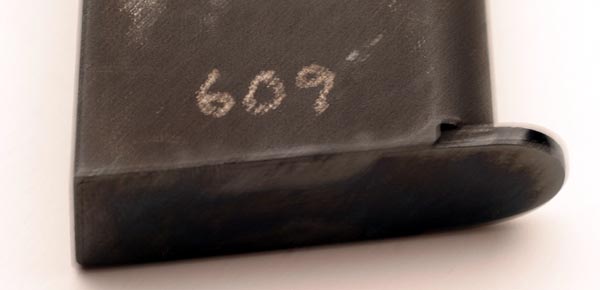 Magazines are serial numbered to the gun and a total of three were shipped with each pistol.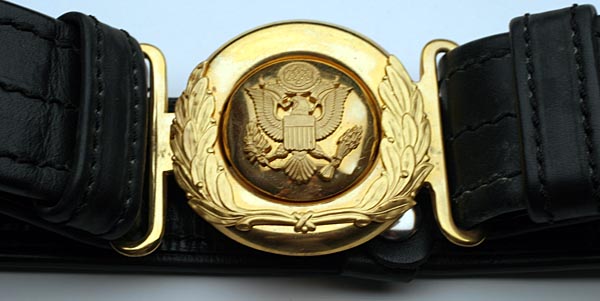 General Officer's Belt Buckle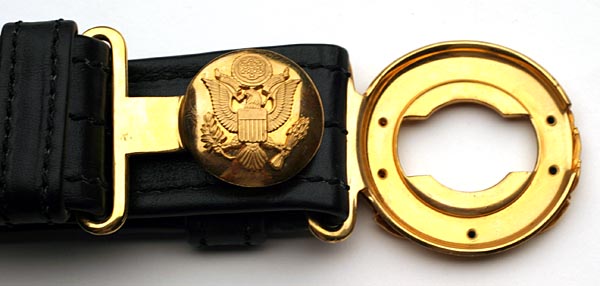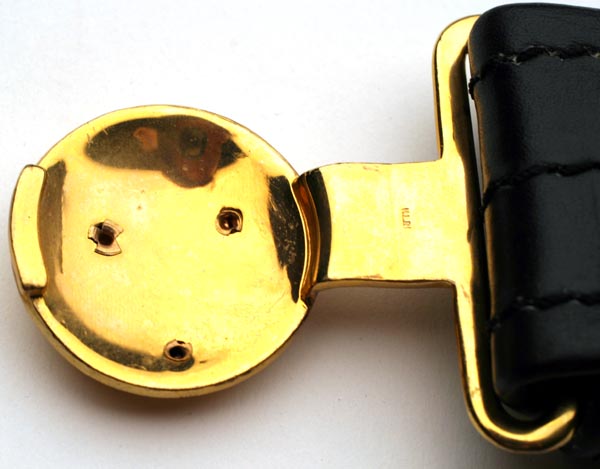 Back of gold plated American Eagle General Officers Belt Buckle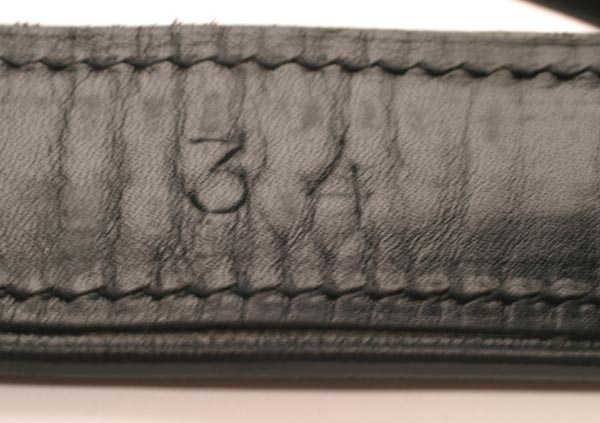 Size marking on General Officers Belt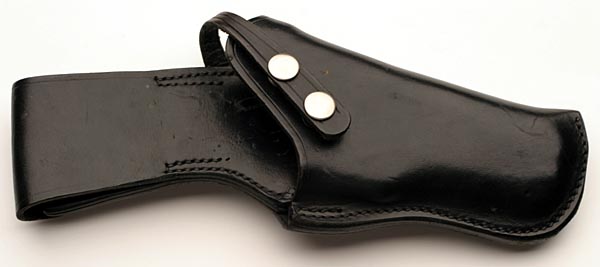 Bucheimer Clark Holster for the M15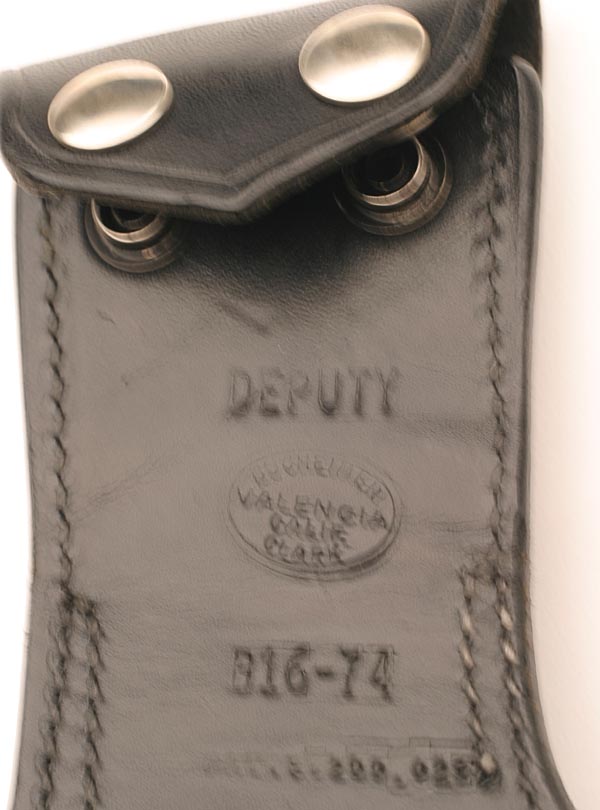 Bucheimer Clark Holster marked Valencia, Calif. B16-74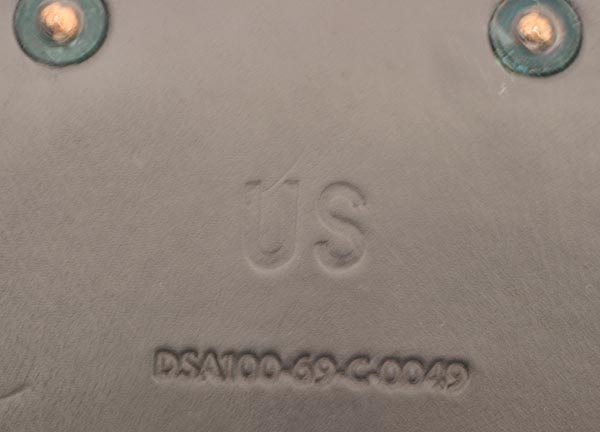 Back of magazine pouch marked US and numbered DSA100-69-C.0049

Original wrapped spare magazines each numbered 609 to the gun.

Cleaning rod in original bag.