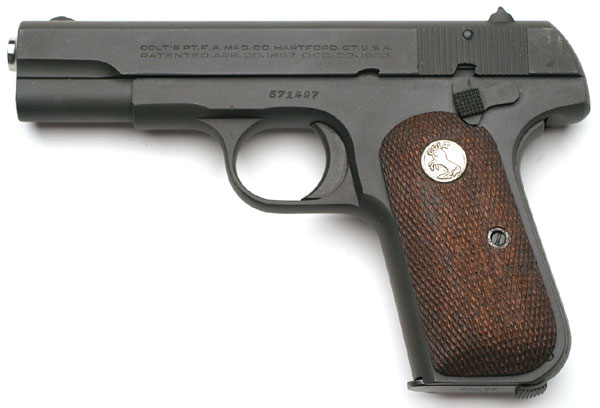 Colt Pocket Hammerless Model 1903 .32 ACP serial number 571497 - issued to Brigadier General Lester W. Grawunder on June 29, 1967.

The following is excerpted from his January 22, 1986 obituary which appeared in the Buffalo News: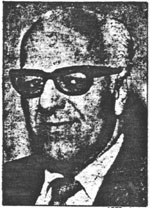 A Buffalo native, General Grawunder rose through the ranks in the Army and the Army Reserve, going from private to brigadier general.
He served in the Pacific in World War II and was awarded five Legion of Merits, the Bronze Star, the Purple Heart, six campaign stars and the Victory Medal. He attended the Reserve Officers Association Academy, military police school, National War College, the FBI Academy, and Army General Staff College.
He also attended the University of Buffalo and the University of Georgia. He had attended the old Hutchinson High School in Buffalo, NY.
He began a law-enforcement career as a Buffalo patrolman and later transferred to the Erie County Sheriff's Department. General Grawunder took over as director of training for the Law Enforcement Officer Training Academy of the Sheriff's Department in 1961. he also taught police science at Erie Community College. In 1972, then County Executive Edward V. Regan tapped him to be coordinator of the newly created Department of Central Police Services.
He had been cited for his law enforcement services by both Erie County Chiefs of Police Association and the Erie County Bar Association, during his career.
He was also active in civil defense and first-aid training programs in the country.
He retired from the Sheriff's Department in 1979.
Grawunder was a member of Levant Lodge 957, F&AM, and the Buffalo Consistory. He was also a member of Ismailia Temple, second vice president of the Elma-Marilla-Wales Shrine Club, and marshal for the Shriners' annual parade.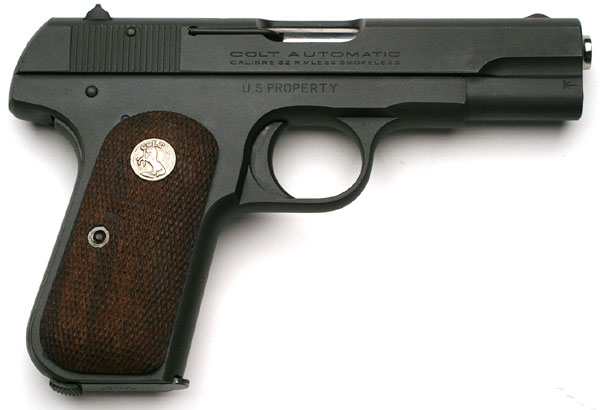 Right side of General Grawunder's Colt 1903 Pocket Hammerless .32 ACP sn 571497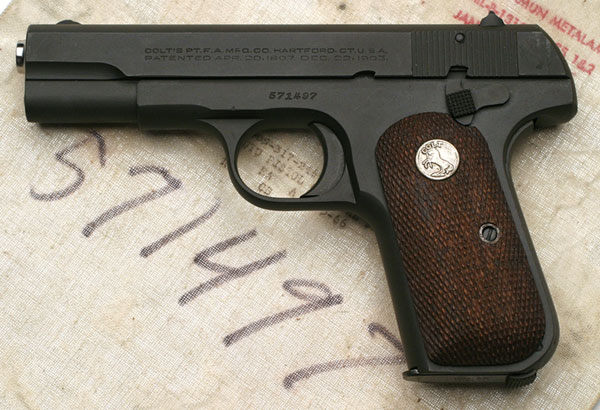 Photo of pistol on original Rock Island Arsenal issue foil lined canvas bag numbered to the gun.
Foil Lined Canvas Bag is marked:

Contents is indicated as follows:

DOBECKMUN METALAM 777-V
MIL-B-131C CLASS 1&2
JAN. 1963 LOT 9

1005-317-2469
AUTO PISTOL COLT CAL 32
1 EA A 5-66
RK CB

571497 (handwritten)
| | | |
| --- | --- | --- |
| Born 1916 | | Buffalo, NY |
| | | Attended the Reserve Officers Association Academy |
| | | Military police school |
| | | National War College |
| | | FBI Academy |
| | | Army General Staff College |
| 1941-1945 | | Five Legion of Merits |
| | | Bronze Star Medal |
| | | Purple Heart |
| | | Six campaign stars and Victory Medal |
| 1961 | | General Grawunder takes over as director of training for the Law Enforcement Officer Training Academy of the Sheriff's Department |
| 1972 | | Selected to be coordinator of the Department of Central Police Services |
| 1979 | | Retired from the Sheriff's Department |
| 1986 | | D-Buffalo, NY, 20 January 1986 |