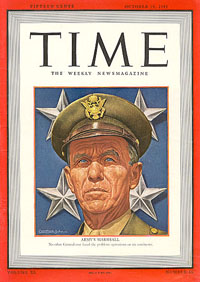 General George C. Marshall's Model M .380 Pistol Serial Number 135631- This spectacular and most important pistol appeared in a Colt internal newsletter in the 1940s. The pistol is documented as having a wartime blue finish and standard checkered walnut grips and as being shipped to Springfield Armory on November 9, 1944. The shipping book gives no indication of engraving. The pistol is factory engraved and gold inlaid, featuring a facsimile of Gen. Marshall's signature "G.C. Marshall" on the left side of the slide.

Two recently discovered photos of this gun reveal two previously unknown facts: 1) This gun was thought to have been engraved for Marshall by Colt master engraver Wilber Glahn but was actually engraved by an engraver named "McGraw"; 2) it was believed that the gun was engraved at Colt's when it was actually engraved at the Ithaca Gun Company, Ithaca, NY. The pistol was inscribed on the trigger guard at the time of engraving:

"Engraved By
Ithaca Gun Co.
Ithaca, N.Y."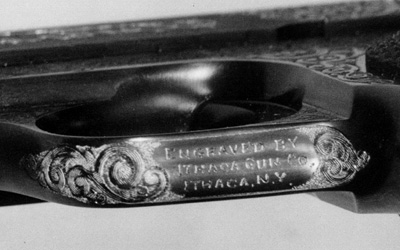 Presumably, the left side roll markings have been relocated to the right side of the pistol. (For another example of this type of work, see the Model M .32 presented to 1st LT. A.W. Norrie listed on the page of Inscribed pistols.)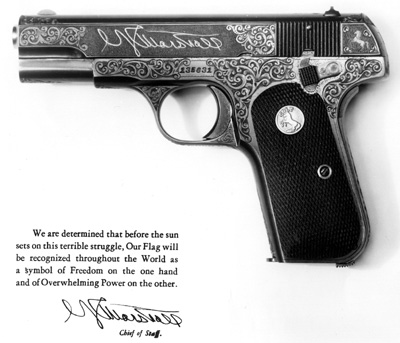 The only known photo of General George Marshall's engraved and gold inlaid Colt Model M .380 ACP pistol.
General George C. Marshall (ca. 1944)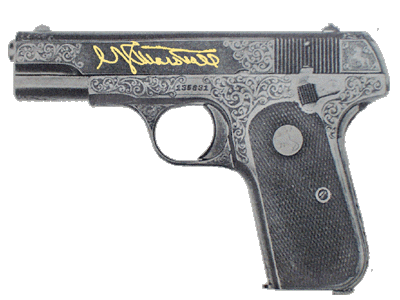 This photo was reproduced in a 1940s Colt internal newsletter. This image is an enhanced scan made from that newspaper photo and was enhanced to give the viewer an idea of how Marshall's gold inlaid signature would appear.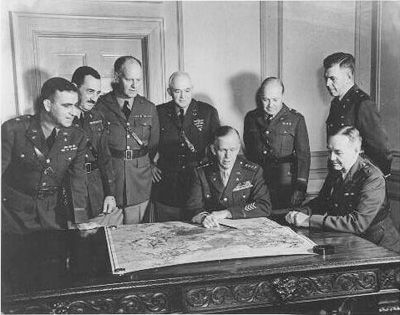 George Marshall and Staff (ca. 1941)