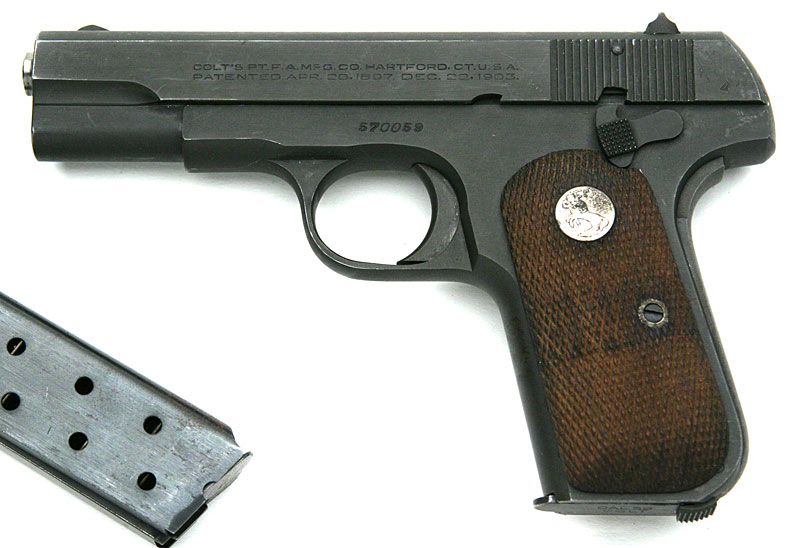 Colt Model M .32 ACP serial number 570059 - Military Model M .32 ACP pistol, original finish, parkerized trigger, thumb safety and grip safety, with U.S. PROPERTY mark on right side of frame and ordnance wheel on left rear of frame behind thumb safety. Pistol is documented as having been issued to Major General Ronald Dana McDonald.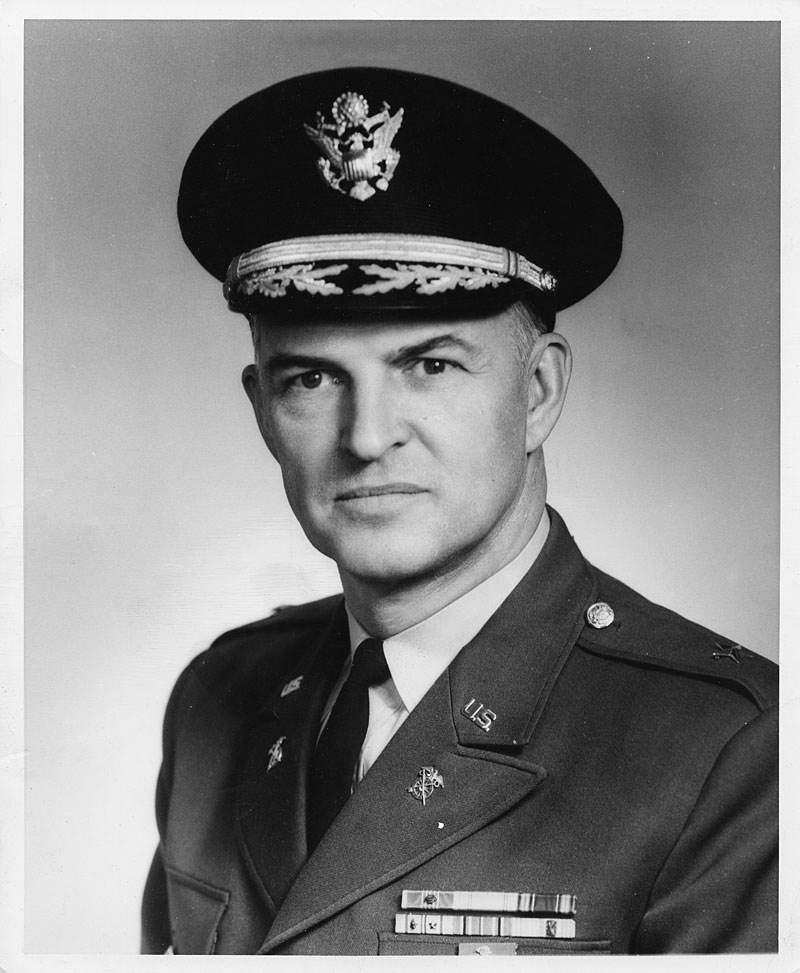 Brigadier General Ronald Dana McDonald
Ronald D. McDonald served as the Adjutant General for the State of Michigan from 1959 to 1965.
Born September 10, 1910, in Hibbing, Minn., McDonald graduated from Lansing, Mich., Central High School. He began his military career as an enlisted soldier in the 119th Field Artillery, Lansing, Mich. In 1933, he received his initial commission after graduating from Michigan State University and the Reserve Officers Training Corps (ROTC).
McDonald served as a battery officer and battalion headquarters staff officer with the 119th Field Artillery. He also served on staff with the 72nd Field Artillery Brigade.
During World War II, he served successively as acting regimental commander of the 260th Field Artillery, as an artillery battalion commander, and as executive officer of the Alaskan Department G2 section. In the Southwest Pacific, he served as an observer and special representative on the staff of General Douglas MacArthur. McDonald received the American Defense Ribbon, American Theater Ribbon, Asiatic-Pacific Theater Ribbon with Arrowhead, the V-Medal, and the Commendation Ribbon with oak leaf cluster for his World War II service.
Assigned to the newly formed 46th Infantry Division in 1947, McDonald served on the division staff as operations and training and intelligence officer. He was promoted to Chief of Staff of the division in August 1956.
In October 1957, McDonald was named Quartermaster General for the Michigan National Guard and promoted to Brigadier General.
Gov. G. Mennen Williams appointed McDonald the 25th Adjutant General of Michigan on May 1, 1959 and was subsequently promoted to Major General.
Maj. Gen. McDonald is a graduate of many armed forces schools, including the Army War College, Command and General Staff College, and the Artillery School.
Source: Michigan Department of Military & Veterans Affairs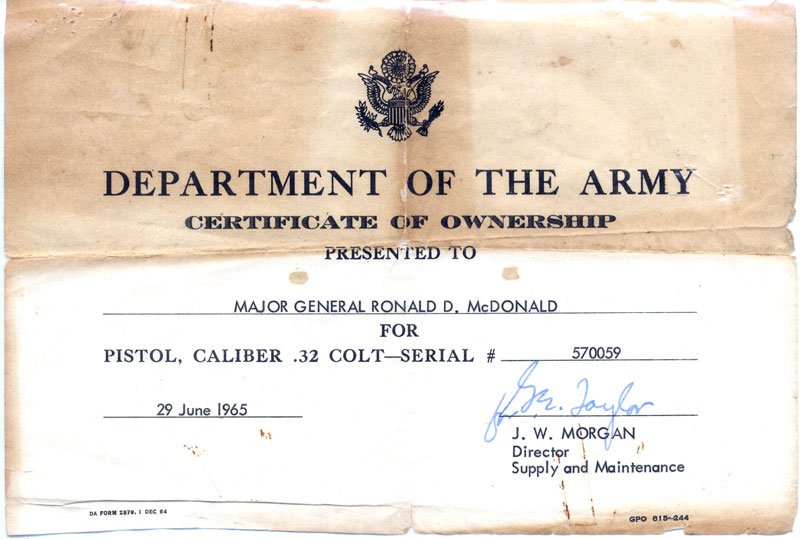 Department of the Army Certificate of Ownership Presented to Major General Ronald D. McDonald for Pistol, caliber .32 Colt - Serial # 570059, 29 June 1965, J.W. Morgan, Director, Supply and Maintenance. DA Form 2879, 1 Dec 64, GPO 815-244.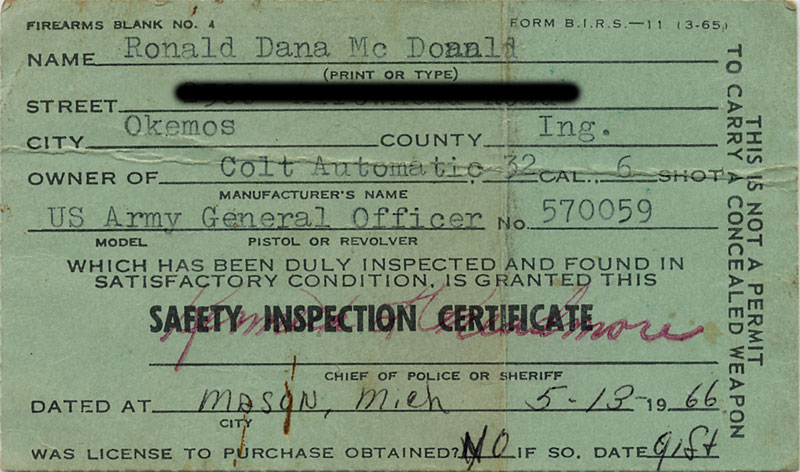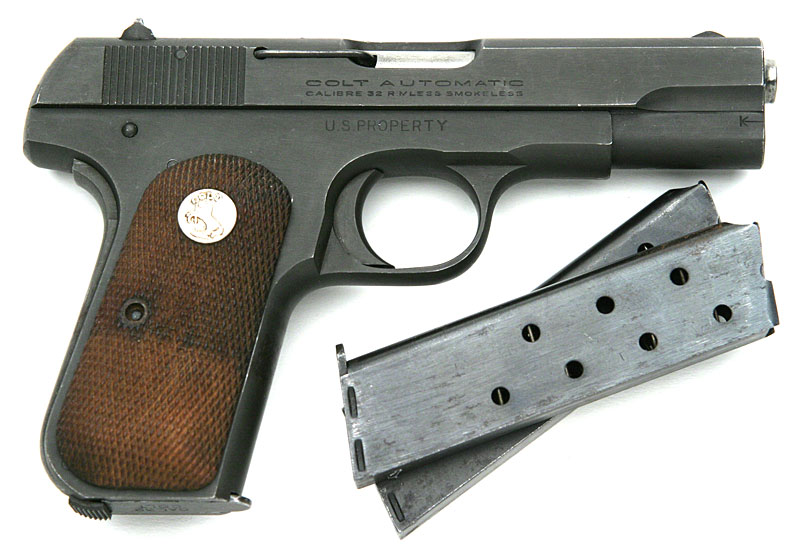 Colt 1903 Pocket hammerless .32 ACP serial number 570059 - right side showing U.S. PROPERTY mark on frame and two spare magazines.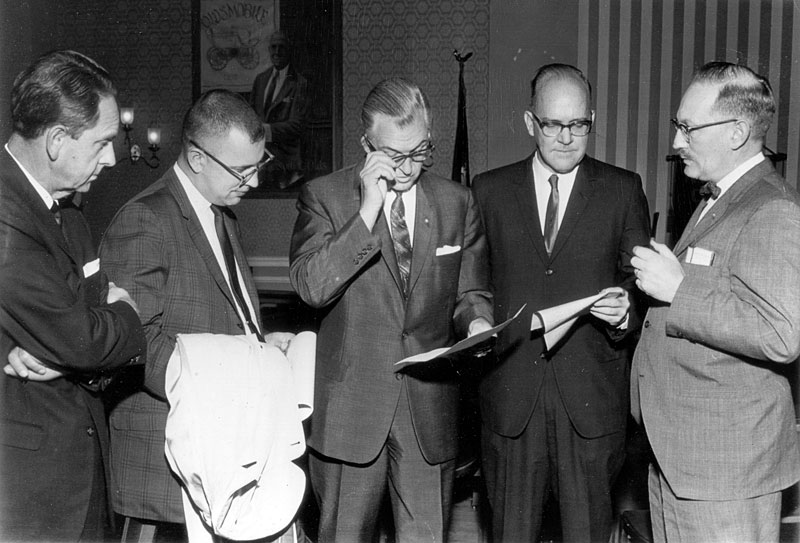 NSP100901-10/9/1964 - LANSING, Mich - Maj. Gen. Ronald McDonald (C) and Brig. Gen. Carson Neifert (2nd from R) got their first look 10/9 at charges Gov. George Romney lodged against them in Michigan's National Guard scandal from a copy offered by a reporter. McDonald talked with newsman after attending a Rotary Club luncheon and said he and Neifert had never been given specifics on why they were losing their jobs with the Michigan Military Establishment. UPITELEPHOTO jb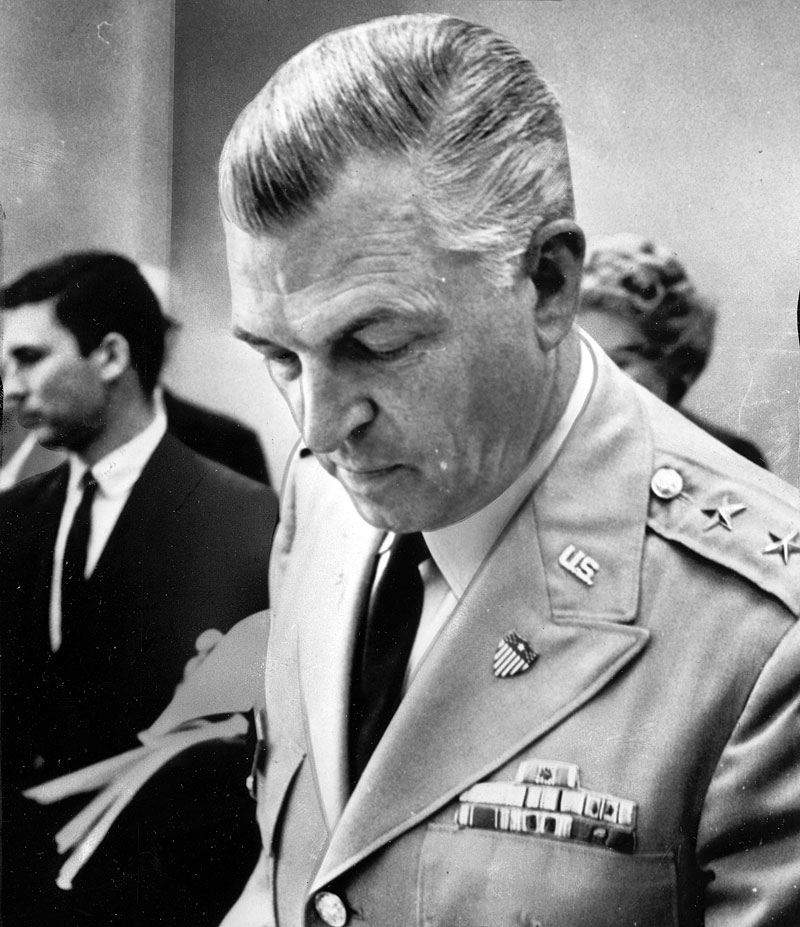 5/20/1965 - ADJUTANT GENERAL BOWS OUT - Gen. Ronald McDonald Ousted by Romney (AP Wirephoto)
MAJOR GENERAL RONALD D. McDONALD (ASN: O-)

10 Sep 1910
Born - Hibbing, Minnesota

Enlisted - 119th Field Artillery, Lansing, Mich.
1933
Received initial commission after graduating from Michigan State University and the Reserve Officers Training Corps (ROTC)
Served as a battery officer and battalion headquarters staff officer with the 119th Field Artillery.

Served on staff with the 72nd Field Artillery Brigade.
1941 - 1945

Acting regimental commander of the 260th Field Artillery, as an artillery battalion commander, and as executive officer of the Alaskan Department G2 section. In the Southwest Pacific, he served as an observer and special representative on the staff of General Douglas MacArthur.
McDonald received the American Defense Ribbon, American Theater Ribbon, Asiatic-Pacific Theater Ribbon with Arrowhead, the V-Medal, and the Commendation Ribbon with oak leaf cluster for his World War II service.
1947

Assigned to the newly formed 46th Infantry Division, McDonald served on the division staff as operations and training and intelligence officer.
1 Aug 1956
Promoted to Chief of Staff of the 46th Infantry Division.
1 Oct 1957
Quartermaster General for the Michigan National Guard and promoted to Brigadier General
1 May 1959

Appointed by Gov. G. Mennen Williams as the 25th Adjutant General of Michigan and subsequently promoted to Major General.
1959 - 1965
Adjutant General for the State of Michigan